ZeroLemon Launches New Battery Products That Provide More Energy for the Samsung Galaxy S10 Plus
Posted on March 01 2019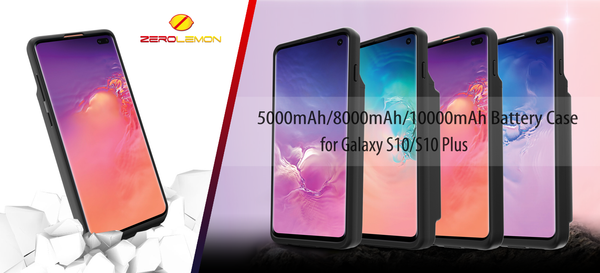 "ZeroLemon launched a new product for the Samsung Galaxy S10 Plus. This new battery case will be able to provide extra power for the S10 Plus."
ZeroLemon has launched another unique battery case for Samsung Smartphone products. This time, the company released two battery case for the Samsung Galaxy S10 Plus. The products mentioned here are the Galaxy S10 Plus 5000mAh and the Galaxy S10 Plus 10000mAh Extended Battery Case. Both of these products equipped with a larger capacity battery, which makes it able to recharge the Samsung Galaxy S10 Plus to almost full.
"We carefully considered for each product and design details. And we only  focus on creating products that we know you will use 24/7, every time." - ZeroLemon
ZeroLemon created the Galaxy S10 Plus 5000mAh Extended Battery Case and 10000mAh version to provide 24/7 usage as they said. With this capability, this product can change the way ordinary people use their phones. Now, people can use it longer and more often.
The battery case is also designed to be easier to install. Users only need to fold the top part of the case to slide on the phone and connect the charging port to the battery case at the bottom. When the battery case is charged, it also charges the phone until full. So, users don't need to replace this unique black casing to recharge their phones.
Besides being easily installed, ZeroLemon also added some features to their new products. Its features are:
-        Extend about 100% Power to Galaxy S10 Plus – with a high capacity battery in the case, it can provide 100% almost full energy for the phone.
-        Full Edge Protection – using a soft material, this phone is protected from bumps and scratches from all angles.
-        Sync Phone to Computer – without removing the case, the phone user can still connect the phone to the computer.
-        Intelligent Power Indicator – 4 LED indicators tell the user about the condition of the battery case.
-        Zero Defect Guarantee – it provides protection for customer money if they want a refund and replacement.
ZeroLemon has been made many breakthroughs that can be seen from their products. These two products for Samsung Galaxy S10 Plus is also one of them.
About ZeroLemon
ZeroLemon was born from the needs of more energy, the need for using the phone much longer, and the simplicity in charge the phone. The people behind this company are those who have a lot of experience and skill in this industry. Therefore, they are capable of creating many innovative products, such as this battery case for Samsung Galaxy S10 Plus.
For Media Inquiries
ZeroLemon
Email: info@zerolemon.com
Tel: +1-415-685-4343 (Business Hours: Monday to Friday, EST 9:00 am-6:00 pm)
Website: https://zerolemon.com
Product URL :
Galaxy S10 Plus 5000mAh Extended Battery Case  https://www.amazon.com/dp/B071L9TG2R?ref=myi_title_dp
Galaxy S10 Plus 10000mAh Extended Battery Case