ZeroLemon Launches Amazing new 75W Dual USB-C PD 4-Port Desktop Charger with 60W Power Delivery
Posted on May 10 2019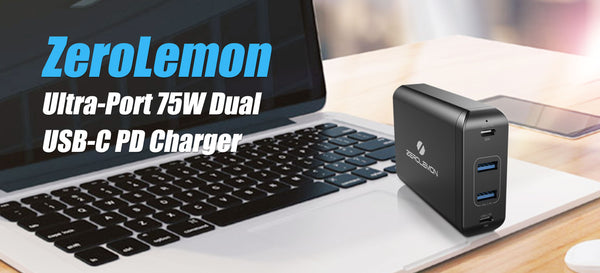 No one wants their electronic device to go without a charge at an inconvenient moment.  ZeroLemon is here to help with the new ZeroLemon USB-C PD 4-Port Desktop Charger perfect for both USB-C and USB-A using phones, laptops, and other devices.
 May 10, 2019
Finding the right charging device does not have to be a challenge.  In fact, breakthrough electronics accessories company ZeroLemon has made it simple with the recent launch of their new ZeroLemon 75W Dual USB-C PD 4-Port Desktop Charger with 60W Power Delivery.  The new product charges quickly, is completely reliable, set at an attractive price point, and has two USB-C and two USB-A charging ports.
"We put a great deal of thought into how to best meet our customer charging needs," commented a spokesperson from ZeroLemon.  "We are quite certain that the ZeroLemon USB-C PD 4-Port Desktop Charger I going to blow away expectations."
Just some of the devices that can be used with the new charger include the MacBook Pro, Nintendo Switch, DELL XPS, iPad Pro, Google Chromebook Pixel, Microsoft Surface Go, iPhone Xs/Xs Max/XR, and many, many others.
The early feedback for the new charger has been completely positive.
Chris S., from California, recently said in a five-star review. "I have owned at least four chargers and the  ZeroLemon USB-C PD 4-Port Desktop Charger is my favorite performing, by far. It even looks the coolest.  Fully recommended."
 This charger will be on sold on zerolemon.com and amazon.com on 15th May at $69.99. 
For more information and to order be sure to visit https://www.amazon.com/dp/B0719DM4DT
https://zerolemon.com/products/75w-dual-usb-c-pd-4-port-desktop-charger