ZeroLemon Introduces New Long-lasting Battery Case for Samsung Galaxy Note 10 and Galaxy Note 10 Plus(5G)
Posted on September 18 2019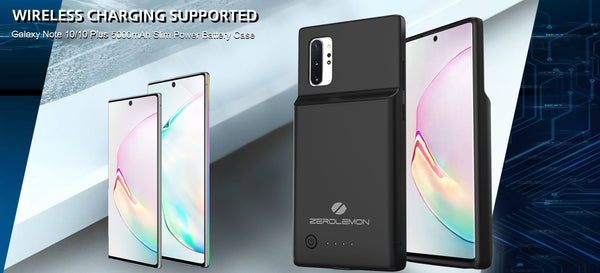 Renowned phone accessories manufacturer, ZeroLemon has recently launched their slim power series for Samsung Galaxy Note 10 and Note 10 Plus(5G), the 5000mAh battery case. This durable new battery case will give Galaxy Note 10 and Note 10+(5G) users an additional battery lifetime. It will serve as support to the phones inbuilt battery, reducing the rate at which the phone is being charged thereby increasing the battery's life cycle.
"This product was manufactured for Galaxy Note 10 and Note 10+(5G) users. Complains of the battery having a low lifetime have been on the rise, so we decided to come up with this incredible, valuable invention to resolve the rising issue. We have provided users a brand new reason to keep on loving Galaxy Note 10 and Note 10 Plus(5G). Our designers and engineers are well skilled in this art, so we made sure it was expertly crafted with essential functions that will be of significant value to users," Note CEO of ZeroLemon.
The Galaxy Note 10 and Note 10 Plus(5G) battery cases serve two purposes. One is giving the phones an 80% extended battery lifetime, and two is giving them 360-degree protection from natural elements. The case shares similar features for Samsung Note 10 and Samsung Note 10 Plus(5G).
Below are the features of the 5000 mAh battery case for Galaxy Note 10 and Note 10 Plus(5G):
Wireless Charging Supported: There is no need to take the phone off the battery case any more when you wish to charge the phone wirelessly. The charging of the phone goes first and the battery case comes next.
Extend 80%+ Power to Galaxy Note 10 and 10 Plus(5G) - The powerful 5000 mAh Li-polymer extended battery provides 80%+ battery life to Galaxy Note 10 and Note 10 Plus(5G).
Sync Phone to Computer - You can transfer data between Galaxy Note 10 and 10 plus and a computer through the charging case.
Full Edge Protection – The soft TPU case offers 360° protection, protecting your Galaxy Note 10 Plus from scratches and other daily wears and tears.
To purchase these amazing products and have them delivered anywhere to you in the world please visit them on zerolemon.com, Galaxy Note 10 5000mAh battery case and Galaxy Note 10 Plus 5000mAh battery case. 
For the Ultra Power series and ZeroShock series battery case of Galaxy Note 10 and Note 10+(5G), they will be coming soon......
About ZeroLemon
ZeroLemon was created by a handful of smartphone enthusiasts who desired more power from their phones. We created the world's first Tri-Cell Battery Design and applied it to all the flagship smartphones so that our users around the world can enjoy the world's highest capacity batteries.
Contact Information
Website: www.zerolemon.com
Email: info@zerolemon.com
Facebook: www.facebook.com/zerolemon