Launch of Feature-packed Soft TPU Full Edge Protection Battery Case for LG G6
Posted on August 29 2017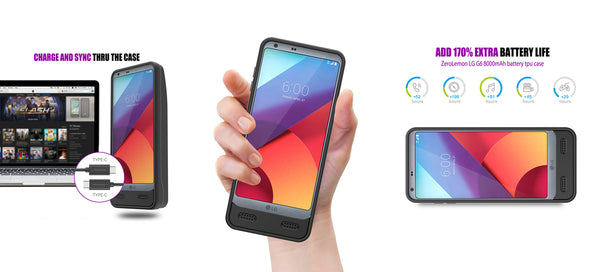 FOR IMMEDIATE RELEASE: 23rd July, 2017
ZeroLemon understands that every top range smart phone would require extra protection and even additional powering facility. That is why they are all set to launch a full edge protection case for LG G6. Smartphones need to have extended battery and though these are the days of turbo charging, ZeroLemon has thought of giving the users of LG G6 exactly that. The brand has been pioneering in the craft of making hardy and yet light weight (just 7.2 ounces) protective case. ZeroLemon aims to launch the product LG G6 on both their site [zerolemon.com] and Amazon [LG G6 Battery Case] at the price of $59.99 by July 23, 2017.

What makes this protective case so special is the fact that this protects the smart and trendy phone, G6 safe from any drops or impacts. In order to know more about the features of this upcoming case, read on.
Highlights of the protective case:
With the invention of Soft TPU, smartphone users are heaving a sigh of relief due to its performance. The protective case that ZeroLemon aims to launch also gets this TPU full edge fit for G6. This means not just the back, but even the sides of the phone get the protection from any drop or impact.
Modern day smartphone users constantly worry about the longevity of the battery time, and just on charging the phone for up to 7 to 8 hours would be enough with this case. This is why today, ZeroLemon is a top name in the business, and it is gaining popularity too. The 8000mAh extended battery means 170% more battery life for the regular users. Heavy-duty use might get up to 2 to 3 hours at the very least.
The battery case from ZeroLemon is ideal for regular use since this case is a patented product and offers the world's highest capacity of power! Ultra power supply now shall be easy to avail for the LG G6.
ZeroLemon offers 180 days of product warranty guarantee along with Amazon's own 30-day full refund guarantee. The company is promising to make LG G6 experience lively and give the users stress-free life ahead with this protective case. So now, one can use smart phone roughly and give it a longer life too.
About the company:
ZeroLemon is an established brand, when it comes to smartphone accessories manufacturing. Few smartphone enthusiasts has put the idea into perspective, aiming to bring more power and spirit to their devices. They went on to launch to the world, first Tri-Cell Battery Design. The design has since then culminated into the launch of various related accessories, keeping the core intact: the world's highest capacity batteries. ZeroLemon's focus lies only on the products that are used round the clock.
Contact Information
Website: www.zerolemon.com
Email: info@zerolemon.com
Facebook: www.facebook.com/zerolemon Instagram:  https://www.instagram.com/zerolemon_official/