Zerolemon 5000mAh Battery Charging Cases for iPhone Xs Max and XR Beat the Market
Posted on October 11 2018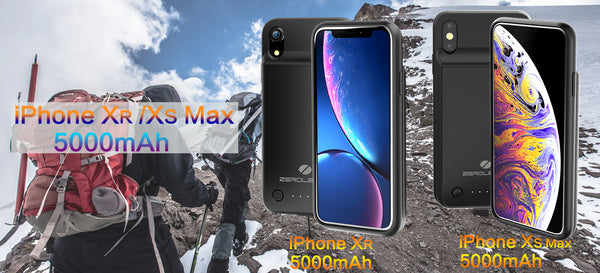 ZeroLemon has announced its newest product of extended battery charging case for iPhone Xs Max and XR. It is claimed to work better as well as it enables the phone to live much longer with its 5000mAh power.
For the travelers, only charging their battery up to the full mode or using the power bank may seem not enough. It must be better anyway if there is a product that enables their Smartphone to live much longer practically.
Interestingly, ZeroLemon just provides. It offers the newest product, the Zerolemon 5000mAh extended battery charging cases for iPhone max and iPhone XR. The cases are available in the stylish black so that it is very suitable to be used for both men and women.
The extension of the battery power is up to 105% for the Xs Max battery case series as well as 110% for the XR series. They are made from the Li-polymer and it is equivalent to the additional 25 hours talking time, 15 hours video playback, 65 hours audio playback, and 13 hours internet uses.
ZeroLemon iPhone Xs Max 5000mAh Battery Case for iPhone Xs Max is also equipped with the durable connectors functioned very well for any iPhone Xs Max cases. Meanwhile, it also has the ultra slim protector, 4 LED indicators, and the zero defects guarantee.
On the other hand, ZeroLemon iPhone XR 5000mAh Battery Case for iPhone XR also has the built-in durable connector for all functions, ultra slim protectors, 4 LED indicators and power button-4 LED lights and the zero defect guarantee. In terms of the longevity, this one is indeed more durable compared to the other series for iPhone Xs Max.
About ZeroLemon
ZeroLemon is a company and manufacturer that produces and provides accessories for Smartphones and other gadgets compatible in various brands and series. The products offered are made with the high technology to make sure that they can work well as well there is no damage at all while being in the market. Meanwhile, they are also famous for the innovations and quality as they can be seen from the products of the battery cases. For more information about the Zerolemon Battery Charging Cases products, please visit https://zerolemon.com/
For Media Inquiries
Email: info@zerolemon.com
Phone: +1 415 685 4343 (Business Hours: Monday to Friday), EST 9:00 AM – 6 PM
Website: Zerolemon.com