33% Off Big Sale for ZeroLemon Charging Battery Base for Amazon 2nd Echo Dot
Posted on May 15 2018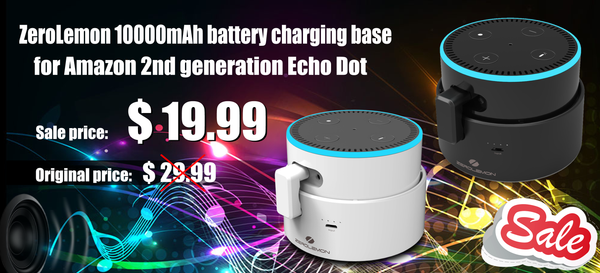 It is really hard to deny that the 2nd generation Echo Dot created by Amazon is excellent. To make a better experience of Echo Dot, we produced a 7500mAh battery charging base to extend Echo Dot's working time.
The built-in powerful 7500mAh Li-polymer battery keeps Echo Dot working max up to 8-12 hours which means there is no need to worry about the power off if you connect the Echo Dot to our fully charged charging base.
Besides, we improved the way the connection between the Echo Dot and our charging base looks by replacing the short cable with a U shaped connector. It is more beautiful now.
With the USB C output on the base, you can still use it as a power bank to charge your other devices.
This charging base only takes $29.99, with this article you only need to spend $19.99 to take it home.
Use promo code 43GX3FN3FSXD at checkout to save $10.00.