ZeroLemon All Set to Release Moto Z 7500mAh Extended Battery Case
Posted on September 06 2017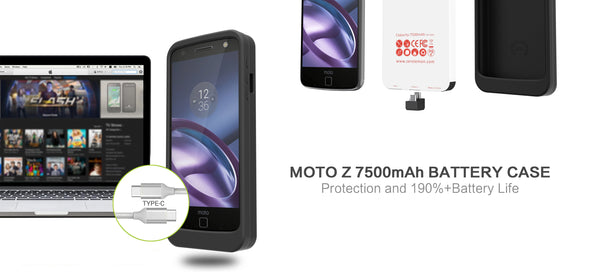 FOR IMMEDIATE RELEASE: 23rd May, 2017
The users of Moto Z, from Motorola, now shall get extra battery life from ZeroLemon's upcoming 7500 mAh battery case. The triple protection and shockproof battery case is worth the purchase for sure.
When it comes to bringing out high quality and advanced features in battery case, the brand ZeroLemon is the best. Now, the brand is all set to come up with a new battery case just for the Moto Z Android phones.
The Soft TPU Full protection case from ZeroLemon is all set to come to hit the stores from May 23, 2017 on Amazon.
Since Moto Z gets a razor-thin body, the users would need to have as much of protection for the phone to save it from drops, scratches and fall. Thus, ZeroLemon has come up with this triple layered protective case for the entire body and back of the phone.
The smart looks on one side, the Moto Z 7500 mAh extended battery case is strong and offers to extend the battery life of this smartphone by 190%!
Along with this feature, the product shall also get 180 days of warranty from ZeroLemon along with Amazon's 30 days full refund guarantee, making the product with the longest warranty.
Features To Fall In Love With:
Zerolemon Moto Z 7500 mAh Extended Battery case comes with a host of features that make the product a must-have for every Moto Z user.
Battery Life with Indicators: Moto Z as possess good battery life and yet, with this ZeroLemon protective case, the battery life gets extended by 190%! How would anyone know if the phone has sufficient battery life or not? Simply checking the 4 LED indicators, integrated on the body of this protective case, one shall know the battery status.
Protection from any damage or fall: ZeroLemon Moto Z 7500mAh Extended Battery case gets three layers of Soft TPU protection to protect the razor sharp edges from impact or fall.
Quick Charge 2.0 phone support: The protective case also gets a feature that aids in speeding up the charging of the phone and transferring of files to computer at double speed.
About the Company:
ZeroLemon is famous for its contribution to the world of smartphones of various top brands like Motorola. The company is about to bring out the top-notch protective case of 7500 mAh extended battery case for Moto Z.
Contact Information
Website: www.zerolemon.com
Email: info@zerolemon.com
Facebook: www.facebook.com/zerolemon