Launch for Google Pixel 6500mAh Extended Battery Case and Pixel XL 8500mAh Extended Battery Case
Posted on September 06 2017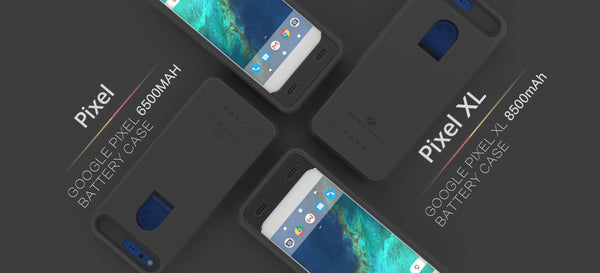 FOR IMMEDIATE RELEASE: 23rd May, 2017
ZeroLemon announces the launch of its Ultra Power 6500mAh Extended Battery Case for Google Pixel. It will become available for sale in black colour from the 23rd of May, 2017 on Amazon.
This battery case with its patented design is arguably the world's highest capacity Google Pixel battery case @ 6500mAh and it offers  up to 160% extra battery life for your Google pixel. And at $59.99, it can be considered very cheap, affordable and good value for money.
The ZeroLemon Battery Case is specially designed for your Google Pixel phones. All its charging ports and features are lined up well and the circuit protection from the battery case will protect the phone from overcharging and overheating. You can enjoy all these amazing features and more if you adhere to the instruction from Google Pixel to use only original cable and charger from Pixel.
This battery case is also designed to give your Google Pixel extra power and protection. The soft TPU protection case ensures a perfect fit with your Google Pixel and guards your phone from drops and hard falls. However, this battery case is not designed for screen protection, so you might want to get a screen guard to protect your Google Pixel screen and enjoy your phone to the maximum.
Meanwhile, ZeroLemon also announces the launch of its 8500mAh extended battery case that boost phone powers by extra 170% exclusively for Google pixel XL with soft TPU that protects the phone during hard fall and a well arranged circuit that prevent over charging and overheating of the phone.
Been on a long road trip, business trip, vacation or even on a more daunting situation where all you needed at that point in time was just more or extra power to power up your Google pixel  XL phone but to your unimaginable dismay there seems to be no way out, well, worry less as ZeroLemon the world's largest producer of original Tri-Cell extended battery is here to offer you an ultra power, high capacity Google pixel XL battery case measuring 8500mAh.
The ZeroLemon extended battery case which is specifically optimized for Google Pixel XL is designed to always keep the phone powered up every day by providing an extra 170% battery life which makes it the best companion for your business trip, vacation or road trip.
It also has a circuit protection which protects the phone from overcharging and overheating with all charging ports and features well arranged, also has a soft TPU protection case that fits with Google Pixel and also guards the phone from drops and hard falls. The ZeroLemon Google pixel XL battery case is set to be launched on 23rd of May 2017 at an introductory price of $59.99 and comes with a 180 days guarantee and also  complies with the Amazon 30 full refund policy if not satisfied with the product (visit here Google Pixel XL Battery Case)