Launch of Battery Cases for Galaxy S8 Mobile Phone: 5500mAh and 8500mAh
Posted on August 29 2017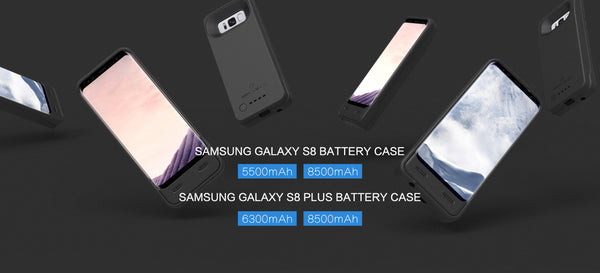 One of the biggest problems with using a mobile phone is the issue of dying batteries. Power banks are cumbersome and can be uncomfortable if you are always on the go. ZeroLemon is proud to announce the release of their Galaxy S8 battery case, available in 5500mah and 8500mah versions.
The cases are set for official release on July 31st, 2017 at the price of $39.99 for 5500mah version, and on July 23rd, 2017 at the price of $59.99 for the 8500mah version. They are designed to work as extended battery and equipped with soft TPU full edge protection.
Products offer up to 180% extra battery life, feature type C input charging port, specially made for Galaxy 8, and provide double protection that guards the phone in case of a hard fall. The case also has full accessibility so users can easily and quickly reach the best external features of the phone. Order for the phone case at an affordable price on the www.zerolemon.com website.
These cases are specially designed for the Galaxy S8 (and not the Galaxy S8 plus). They offer extreme comfort, accessibility, capacity, and value for people who want a better and easier lifestyle. With these cases, you don't have to worry about your phone going off on vacation, business trips, and road trips. You have absolute confidence and advantage.
ZeroLemon cases for Galaxy S8 is patented design from the original innovator of the world's largest TriCell extended battery.
5500mAh Version
High capacity battery case featuring type C input charging port, with the ability to charge both the phone and battery pack at the same time. The soft TPU offer double protection and shockproof that guard the phone and drops and hard falls, delivering protection every day. The Galaxy S8 case 5500mAh Version offers 120% extra battery life.
8500mAh version
Provides up to 180% extra battery life, serving as the perfect partner for trips and vacations, and road trips. It comes with a circuit protection that saves the battery from overcharging and overheating, guards the phone against falls, and comes with a ZeroLemon guarantee and promise.
About ZeroLemon
ZeroLemon is a smartphone accessories manufacturer specializing in high capacity smartphone batteries and battery Case for iPhone and Samsung phones. The company was created by a handful of smartphone enthusiasts who wanted more power with their phones. They delivered the world's first Tri-Cell Battery Design and applied it to all flagship smartphones so that users around the world can enjoy the world's highest capacity battery. For more information, please visit www.zerolemon.com.
Contact Information
Website: www.zerolemon.com
Email: info@zerolemon.com
Facebook: www.facebook.com/zerolemon