Release of Battery Cases for Galaxy S8 Plus Mobile Phone: 6300mAh and 8500mAh
Posted on August 29 2017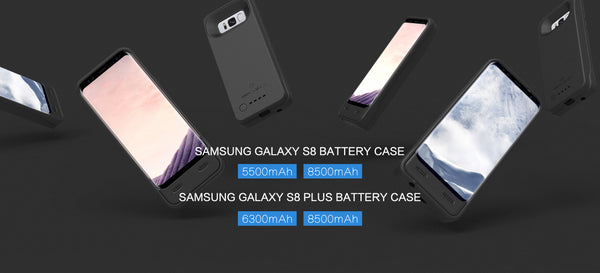 The renowned smartphone accessories manufacturer specializing in high-capacity battery case and batteries will release a groundbreaking battery case yet again. Comes in two variants, it boasts double-protection and full-accessibility.
ZeroLemon, the world's leading smartphone accessories manufacturer focusing only in high quality products that customers from all parts of the world use around the clock has created a ground-breaking battery case yet again. The latest invention is officially referred to as ZeroLemon S8 Plus 6300mAh battery case which is set to launch on the 23rd of July this year and ZeroLemon S8 Plus 8500mAh battery case which is set to launch on the 31st of July.
HIGH CAPACITY BATTERY CASE
Engineered specifically for Samsung Galaxy S8 Plus, the high capacity and high quality ZeroLemon S8 Plus battery case comes in two different variants: the 6300mAh ZeroLemon S8 Plus battery case, Price: $39.99 , and the 8500mAh ZeroLemon S8 Plus battery case, Price: $59.99.
The 6300mAh ZeroLemon S8 Plus battery case is known to offer upward to 110% of extra boost in battery life, whereas the 8500mAh model boasts an upward to 160% of battery life. Either of which may very well result in a bulky phone as both variants require additional physical space, however, the extensive benefits and power both variants provide far surpass the expectation.

DOUBLE PROTECTION & SHOCKPROOF
This High Capacity Battery Case is built not only with the aim to provide a longer battery life, but also with the best available protection to ensure both safety and cost-efficiency. Made of premium quality microfiber lining, the inside of the case ensures adequate protection. ZeroLemon S8 Plus battery case also boast a well thought out hinge design, this elastomer hinge does not only ensure its sturdy yet flexible built, but also ensure easy application. Gone were the days where you had to worry every time you must take the case of only to put it back on shortly after. The visually appealing exterior also features double protection that does not only feel comfortable to the touch, but also offers shockproof protection in case of hard falls or drops.
FULL ACCESSIBILITY AND OPTIMIZED FOR Galaxy S8 Plus
The precise openings of ZeroLemon S8 Plus battery case also offer full accessibility for when you need to use its external features. Its type C Input charging port makes it possible for you to use the Samsung original charger as well as cable to simultaneously charge both of the battery pack and phone. Other external features that can be accessed with ZeroLemon S8 Plus battery case is the camera and the headphone jack. With charger to the battery case charging time hovering just above 6 hours and battery case to phone charging time of 3 hours for the 6300mAh variant, the increased talk time is estimated to be more than 25-hours.

About the company:
ZeroLemon is an established brand, when it comes to smartphone accessories manufacturing. Few smartphone enthusiasts has put the idea into perspective, aiming to bring more power and spirit to their devices. They went on to launch to the world, first Tri-Cell Battery Design. The design has since then culminated into the launch of various related accessories, keeping the core intact: the world's highest capacity batteries. ZeroLemon's focus lies only on the products that are used round the clock.
Contact Information
Website: www.zerolemon.com
Email: info@zerolemon.com
Facebook: www.facebook.com/zerolemon